Semblance: Two Essays by Divya Victor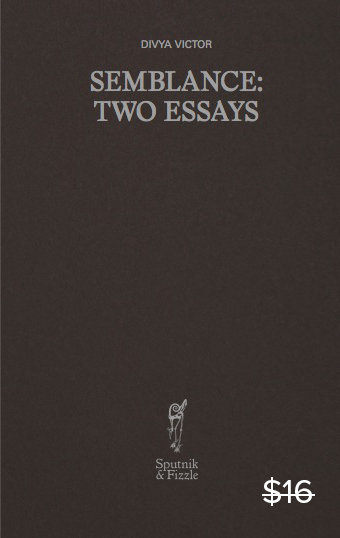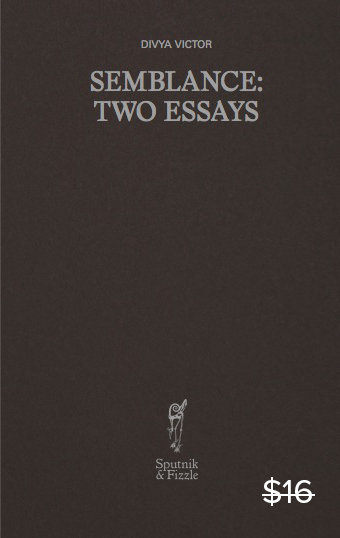 Semblance: Two Essays by Divya Victor
Trade Paperback
Perfect-bound, 48 pp. 4.7 x 7.5 in.
ISBN 978-0-9976209-1-7
Library of Congress 2016943051
Publication Year: 2016
Note: Orders typically ship within 1 to 2 business days
The eponymous two essays Divya Victor produced for Semblance: Two Essays are prefaced by an original contribution by the poet and librettist Douglas Kearney. Victor's first essay, "Cicadas in the Mouth," is a revised and annotated version of her 2014 Leslie Scalapino Memorial Lecture. Victor explores the politics of language and meditates on the meaning of being a plurilingual writer in relation to the history of colonialism. In her account, the cicada becomes a complex figure for the historical layers present in language ownership and usage. The second essay, "An Unknown Length of Rope," is a completely original essay/lecture on the history of black representation via an insightful discussion of Singleton Copley's painting, Watson and the Shark. Sir Brook Watson had lost his leg in Havana, Cuba to a shark attack in 1749 just as Cuba was becoming a thriving slave post and Victor speculates on the meaning of Copley's painting "gaining" a black actor thirty years after the incident he was commissioned to depict had taken place.
From Semblance: Two Essays:
"First, the facts (as they say): In 1779, Sir Brook Watson is a Tory 1st Baronet and Lord Mayor of London. But, well before that, he is just an orphan cabin boy in Cuba. At this moment in history, Havana is a roiling entrepôt for trading in human slaves. Watson is helping out his uncle whose mercantile trade shares the routes (and thus moral responsibilities) for the Middle Passage. One cloudy, peach-lit day, Watson is attacked by a shark while swimming in the warm waters of Havana Harbor (1749). Watson loses his right leg to the shark's attack.
Thirty years after the incident, when he turns forty-four, Watson commissions the American painter John Singleton Copley to memorialize this violent scene, this rescue of a man, and the loss of a limb. What interests me is not Watson losing a limb, even though Copley's painting makes this its central problem. What interests me is the painting gaining a black actor during the drafting of the rescue. Of the nine actors in the rescue boat, one is black. But, he was not always black. His blackness arrives at the scene of this crisis somewhat belatedly, and yet precedes it.
How?"
Bio
Divya Victor is the author of Natural Subjects (2014), UNSUB (2015), Things To Do With Your Mouth (2014), Swift Taxidermies 1919-1922 (2014), Goodbye John! On John Baldessari (2012), and PUNCH (2011), among others. Her criticism and commentary have appeared in Journal of Commonwealth & Postcolonial Studies, Jacket2, and The Poetry Foundation's Harriet. Her poetry has been translated into French and Czech. She lives in the United States and Singapore, where she is Assistant Professor of Poetry and Writing at Nanyang Technological University. Her next book, Kith, will be published by Fence Books and BookThug.